No matter the size of your outdoor space, it makes sense that you are going to use it much more, the more comfortable and inviting that it is. But what are the best things to do in order to create a cozy outdoor living space?
It is important to treat it like you would for any other room inside the home. With that said, here are some of the things to think about when creating your cozy outdoor living space.
Think About Furniture
It is a good idea to think about the kind of furniture that you would like for your cozy outdoor living space. The more comfortable the furniture, the more likely you will want to be out there.
To start with, it can be a good idea to think about what you will use the space for. Do you want to dine with your family outside? If so, a table and chairs will be best.
If you are just looking to get out there and relax, then choosing a folding Adirondack chair could be a good idea so that it can be stored away easily too.
Think about the number of people to accommodate outside too. If there will be a large number of you, then you need to plan furniture accordingly. Comfortable seating will be needed and you may need to be creative in doing so.
Lighting
Lighting is something that is key. No matter what time of year you are out there, or the time of day, some great lighting can make all of the difference.
You could choose some big lights for outdoors to dot around the space like this solar light at Tractor Supply, or you could string up some lights on fencing or from tree to tree. Candles and lanterns are other great aspects to think about and can bring a lovely ambiance to your outside space on an evening.
If you are going for a really cozy outdoor living space, then thinking about the lighting that you want to have is a must!
Outdoor Rug and Soft Accessories
If you are looking for some ways to really create a cozy outdoor living space and make it more comfortable, then think about the room that you love the most in the house and go from there. Your outside space should get as much care and attention to detail as any room in the home does.
That is why you should think about getting items for your outside space, like rugs and other soft accessories. You can get outdoor cushions, rugs, beanbags, and more.
Of course, during certain times of the year you will need to think about storage. But for the majority of the time, specific outdoor items can be left out there as they're set up to be used in all weathers.
Fire Pit
If you want to use your outdoor space all year round, then a fire pit is a really good idea. A fire pit means you can get warmth in the months that you need it, as well as to create a cozy outdoor living space in the warmer months for fun things like making s'mores.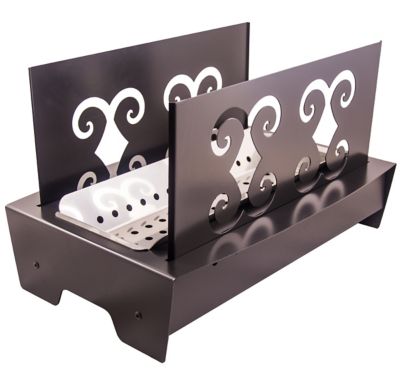 Survivor Table-Top Firepit, 12-TTFP
Survivor Table-Top Firepit, 12-TTFP [More]
Price: $79.99
You can get a fire pit built out of brick if you have the space. Otherwise, there are plenty of portable options that you can make the most of.
Final Thought on Creating a Cozy Outdoor Space
When you are trying to create a cozy outdoor living space for your home try and include comfortable furniture, an outdoor rug, some soft pillows and some great lighting!
Next add in a nice fire pit to enjoy some family time around and before you know it you can have the best outdoor space for you and your family to enjoy.
Have you created a cozy space outside of your home? Tell me about it in the comments and feel free to add an image too!